Race #18 Saturday August 19th 2017
IMCA RaceSaver Sprint Series
Natural Bridge Speedway
Natural Bridge , Va.

by Jim Haines

Scott Lutz Visits the Bridge
The Natural Bridge has been a popular destination for tourists but for racers and fans the track up the street is where to be and Scott Lutz is the newest winner to visit the Bridge.
Heat wins on the warm summer evening were won by Tom Humphries and Mike Leraas.
Charlie Ware and Anthony Linkenhoker paced the field to green with Linkenhoker out first. Leraas was right on Linkenhoker from the start with Tom Humphries not far behind. Humphries ended his night early by sliding off turn three and damaging his car.
Linkenhokers motor was not on song and Leraas was strong at the same time and on the green Leraas worked on Linkenhoker to get by and take the lead. Brian Lawson and Scott Lutz now were working to get to the top also and chase down Leraas.
Leraas still lead with Lawson now all over him lap after lap. With the laps winding down Lawson went outside to go for the lead and they raced that way for two laps.
The race for the lead ended when lapping a car three wide wouldn't fit in turn three with Lawson sliding over the hill bring out a yellow and Lawson to the rear. Leraas still lead but Lutz was strong on the bottom and got under Leraas with two to go and held off Leraas for the win.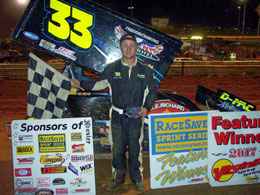 At the line it was Scott Lutz, Mike Leraas, Tony Harris, Anthony Linkenhoker, Bill Rice, Jeff Taylor, Jerald Harris, Daren Bolac, Brian Lawson, Chris Ware, Charlie Ware, Neil Sandridge and Tom Humphries.

The VSS takes off for the IMCA RaceSaver Nationals in Eagle Nebraska at Eagle Raceway starting on August 31st running through September 3rd.


==================================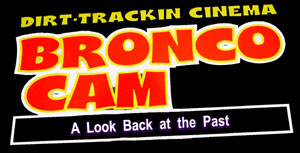 Below I redid the French Grimes and Glenn Worrell Videos
to view on Youtube.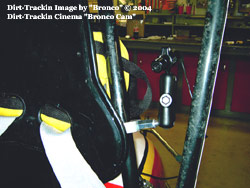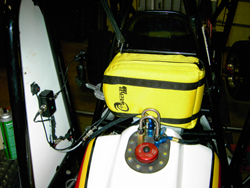 In the past to do incar camera you had to strap a pack onboard
with a sony recorder. Look how Technology is today
a simple GoPro !