Happy New Year Everyone.

The 2023 schedule is now posted !
First race of the year is at
Natural Bridge Speedway April 15th.
Updated: January 25, 2023
------------------------------------------------------------------------
IMCA RaceSaver Sprint Series
Race # 17 Saturday October 8th 2022
Langley Speedway, Hampton, Virginia
by Jim Haines

Chris Humblet Saves the Best for Last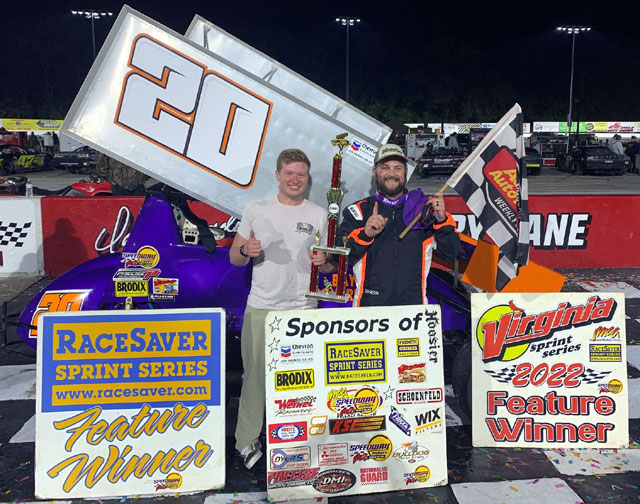 In Chris Humblet's second year he saved his best race for the last of the 2022 season as he swept the night taking his heat race win and his first feature race win.
The heats kicked off the night on a cool clear night with Humblet and Bill Mullis taking wins.
Chris Humblet and Aaron Leach paced the filed to green with Humblet out first and Leach right with him bringing along Mike Leraas in third.
Billy Hubbard and Matt Mullins made it to fourth and fifth as Humblet kept on rolling.
The pavement races are so fast they go by quick and Humblet was staying strong as Leach shadowed him every lap with Leraas staying close in third.
Hubbard and Mullins were slowly really in the front group, but nobody was going to catch Chris Humblet for his first win as he flew under the waving checkered flag.
At the line it was Chris Humblet, Aaron Leach, Mike Leraas, Billy Hubbard, Matt Mullins, Bill Rice, Bill Mullis and Daren Bolac.
As this closes our 2022 season we always want to thank all the racers and families that came to our races and the Tracks and their staff, the fans and all the sponsors that make this possible as this was our 25th year.
We hope to see you all back in 2023 as it will be here quickly.
Thanks for your support Jim Haines Virginia Sprint Series
IMCA RaceSaver Sprint Series