Virginia Sprint Series
Race #16 Saturday September 24th 2022
IMCA RaceSaver Sprint Series
Natural Bridge Speedway, Virginia
by Jim Haines

Joe Leavell Even Beats the Rain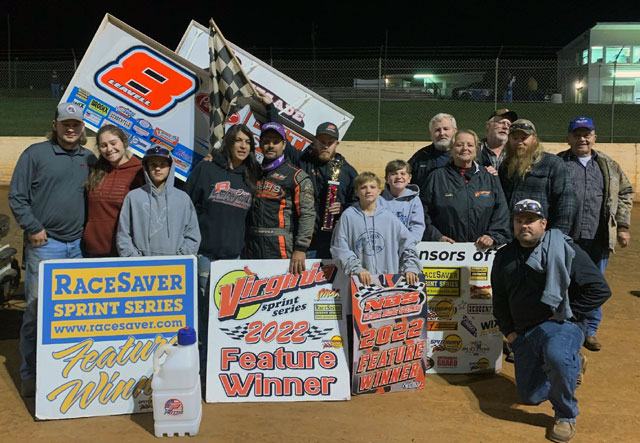 A clear autumn race night had an unexpected rain delay but it didn't slow Joe Leavell from jetting to the front to take his second win of the year.
Fan appreciation night at the speedway had a fan meet and greet after which a rain delay had us run a feature only event.
Caleb Harris and Bill Rice paced the field to green. Bill Rice shot out front up high on the start and had Harris and Mike Leraas chasing.
The racetrack had changed from warmups after the shower and it was lightning fast as Rice continued to fly out front.
Joe Leavell had found a grove and was closing in getting to second. Right before half Leavell was there and not long after into the lead with Rice right behind keeping up with him as they entered traffic in the closing laps.
Mike Lerass made it to third and was trying to close in as the laps were winding down. Rice made a charge but it was to fall short as Leavell stayed up high and fast and streaked under the waving checkered flag first.
At the line it was Joe Leavell, Bill Rice, Mike Leraas, Caleb Harris, Matt Mullins, Daren Bolac, Aaron Leach, Chris Lowery, Chris Humblet and French Grimes.
The VSS takes off next weekend then travels to Landley Speedway in Hampton, Va. on Saturday night October 8th to close out the season.