Virginia Sprint Series
Race #17 Saturday October 2nd 2021
IMCA RaceSaver Sprint Series
Langley Speedway Hampton, Va.
by Jim Haines

Matt Mullins Hometown Hero at Langley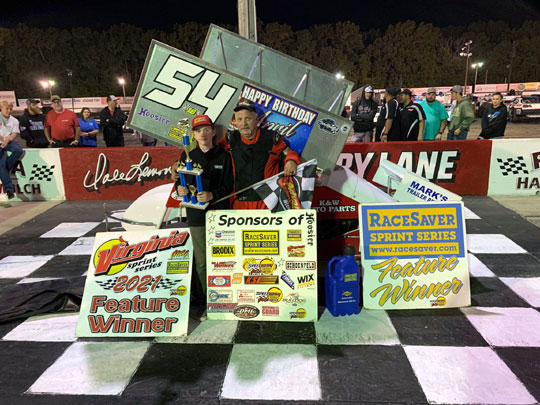 The last race of the year had a hometown hero take the win making it two wins for the year.
Heats kicked off the night with Mike Keeton and Bill Rice taking wins before it was off to the feature.
Chris Ware and Matt Mullins paced the field to green with the high line the place to be as Mullins was out first with Bill Rice and Mike Keeton in tow.
The pavement races fly by and Mullins was making time fly as he was smooth and strong lap after lap as Rice was not far behind but unable to close and make a charge.
Rice was keeping Keeton and Billy Hubbard at a distance at the same time. After a quick yellow for a stalled car Mullins took off again and as the laps ran out he was the first under the waving checkered flag.
At the line it was Matt Mullins, Bill Rice, Mike Keeton, Billy Hubbard, Mike Leraas, Bill Mullis, Chris Ware, Caleb Harris, Chris Humblet, Daren Bolac and Jerald Harris.

This closes out the 2021 season and we thank all the race teams, race tracks and personnel and out series sponsors that make it all possible as we look forward to next year and our 25th season.
2022 Schedule is Posted.

Thanks for your support
Jim Haines Virginia Sprint Series
IMCA RaceSaver Sprint Series