Virginia Sprint Series
Race #13 Saturday August 7th 2021
IMCA RaceSaver Sprint Series
Natural Bridge Speedway, Virginia
by Jim Haines

Matt Mullins Fly's to First Win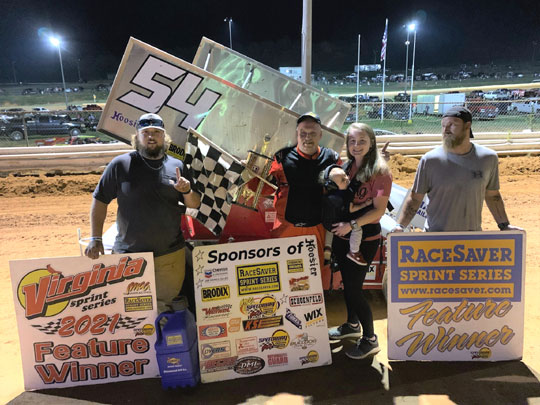 Matt Mullins joined the series four years ago after racing other cars in the past but being from Iowa always wanted to race a sprint car and Saturday night fulfilled a life-long dream of not just racing sprinters but winning in one.
Jerald Harris and Daren Bolac winning heats before the feature on a warm summer evening.
Matt Mullins and Chris Ware paced the field to green with Mullins out first and Ware right behind with Mike Leraas and Daren Bolac racing for third.
Mullins was really rolling out in clean air as Ware was trying to stay in touch with Bolac making it to third with Leraas now fourth.
Bolac got a run under Ware to move to second and set off after Mullins that was still out front flying just as Leraas made it to third.
Brandon McLain made his way to fourth as Bolac was closing in on Mullins but laps would run out as Matt Mullins would flash under the waving checkered flag for his first feature win.
At the line it was Matt Mullins, Daren Bolac, Mike Leraas, Brandon McLain, Mike Keeton, Billy Hubbard, Jerald Harris, Chris Ware, Alyissa Rowe, Bill Rice, Caleb Harris, French Grimes, Joe Leavell and Mike Cicchillo.
The Greater Cumberland Raceway in Cumberland, Md. With the Laurel Highlands Sprint Series on Saturday night August 14th has been Rained out Canceled.